Andy Nichol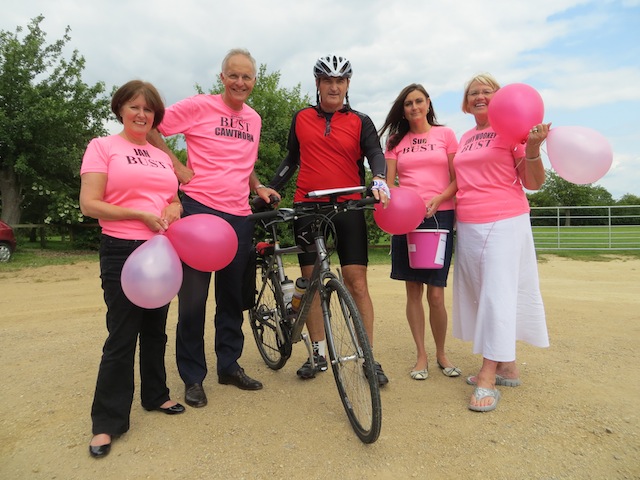 Andy Nichol talks of his fight with breast cancer
FOR Andy Nichol, being told he had breast cancer was like being hit by a bombshell.
He had no symptoms and was feeling fit and well but a routine health check flagged up a tiny lump.
The 59-year-old is now cycling from Land's End to John O'Groats to raise money for a Bristol breast care unit, just weeks after having a mastectomy.
The former Pepsi Co chief financial officer will now be taking the cancer drug tamoxifen for ten years and is being monitored regularly.
"I had no symptoms other than a very tiny lump," he said.
"I felt fine. I was doing well, doing more and more training for the cycle ride and then I was hit by this bombshell. It was a bit of a shock.
"My surgeon told me that for every man that gets breast cancer there are 130 women who get breast cancer."
Mr Nichol, who spends part of the year living in Dubai, sent his test results back to his wife and medical student son, who said he should return to the UK to get checked out.
"My wife found specialist Simon Cawthorn and when he looked at my images he said 'Yes, this is cancer'" .
Mr Nichol flew back from Dubai and saw the specialist breast surgeon, who created Southmead Hospital's breast care centre, at The Spire private hospital next to Durdham Down.
"Within about 30 seconds of sitting down he said 'You realise treatment for this cancer is mastectomy?'," said Mr Nichol. "You could have knocked me down with a feather."
Mr Nichol had surgery to remove the breast in April just a week later.
"I had heard of male breast cancer before but didn't know personally of anybody who had been through it," Mr Nichol, who lives in Glastonbury, said. "But when I told my friends they mentioned friends of friends who had also had breast cancer. A couple of guys called me up and I talked to them about their experiences, which meant I did not feel like I was the only one."
Mr Nichol then had his lymph nodes removed because the cancer had spread. Tissue was taken and tested to establish the chances of the cancer returning.
As a result of the test Mr Nichol was told he probably would not need chemotherapy but was warned that the tests that had been carried out were based on a database of women's breast cancer cases.
"My consultants Simon Cawthorn and Jeremy Braybrooke have always said to me that the only caveat is that scores on tests are based on women," he said. "They have no reason to think it will be different for men.
"All the data and all the research on breast cancer is based on female cases, there is no reliable database for male breast cancer. The tests I've had, the interpretation, diagnosis and prognosis is all based on female data."
Mr Nichol said that he had always kept himself pretty fit, playing football, running and cycling in more recent years and since semi-retiring he was preparing for the cycle challenge.
"When I was first diagnosed and had surgery I thought there was no way I was going to do the cycle," he said. "Then four weeks after I thought maybe there's a chance and then about five weeks ago I started to get back on my bike."
He said the physical side of things is still "not right" and he is about 80 per cent recovered.
"I have been improving all the time and a couple of weeks ago I decided I could actually do this. Part of my motivation is that it is a great opportunity to give something back."
Mr Nichol had originally planned to do the 1,000-mile ride as a personal challenge rather than for charity but, having gone through the experience of breast cancer, he felt he should support a cancer charity and when he heard about the work of Bust, which supports the breast unit at Southmead Hospital, he felt it was the perfect fit.
He said he will not be racing the route – which he is cycling with his friend Gordon Jones who was treated for skin cancer several years ago – focusing on completing it and enjoying the scenery.
donations so far
£1,984,215
Aiming for our £2 million milestone
READ MORE